Storm Surge and Flooding
Some of the most damaging effects of hurricanes involve storm surge and flooding. Surges and flooding affect not only the coastline, but can also cause considerable devastation inland.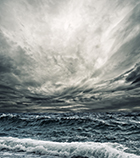 The general rule is if your home sustains water damage from the top down, it is covered by your homeowners insurance. However, if water damage is from the bottom up, then it is considered flood damage and is covered by flood insurance.
Did you know that flood damage is not covered by your homeowners insurance policy? We recommend purchasing a separate flood policy from your insurance agent to be sure you have the coverage you need.
Flood insurance is typically subject to a 30-day waiting period, meaning that it will not cover losses incurred within 30 days after the policy effective date. So, don't wait until a hurricane is forecast in your area to purchase a flood policy . . . or it will be too late to have coverage for that storm. If a policy is purchased in connection with a mortgage, the 30-day waiting period does not apply.
STORM SURGE
How does a storm surge differ from a storm tide? Based on the time of day, the normal tide is either high or low. When water levels increase because of a nearby storm that includes heavy rainfall, water levels rise and the normal tide becomes a storm tide.
Storm surge is caused by a combination of high water levels and intense winds. Storm surge levels are not included on the Saffir-Simpson Hurricane Scale, because there are too many variables to consider. Many factors determine the impact and extent of a storm surge, such as the storm's overall size and speed, as well as the shape of the coastline. A storm surge, especially when it occurs during high tide, can have a devastating impact.
For example, in 2005 Hurricane Katrina had been downgraded to a category 3 when it reached the coast of Louisiana, but the storm surge was 28 feet high. However, these powerful surges can impact more than just coastlines by causing damage inland as well. When Hurricane Ike struck Texas and Louisiana in 2008, storm surges reportedly reached as far as 30 miles inland in some regions.
FLOODING
You do not need to live near the coast or inland waterway to be affected by flooding; floods can happen anywhere at any time. According to the Federal Emergency Management Agency (FEMA), floods are the most common and costly natural disaster. Flooding during a tropical storm or hurricane can be the result of a storm surge, but more often it is caused by torrential rains or a weather system stalling over an area. If the ground becomes overly saturated or there is insufficient drainage, flooding can quickly occur.
Even an inch or two of water in your home can cause extensive and expensive damage. Consider all of the items that touch the floor of your home and the high cost of replacing them: flooring, appliances, cabinetry, furniture, and electronics, plus repairs to the interior and exterior walls of your home. To learn more about what flood damage to your home could cost, check out the interactive Measure Your Damage tool available on FloodSmart.gov.
To purchase flood insurance, contact your agent. You can save 2.5% on your homeowners policy by purchasing a flood policy through Tower Hill.