Save Water/Save $$$
If your water bill keeps rising and your water usage hasn't significantly changed lately, your house may have a hidden leak. Reading your water meter is the first step.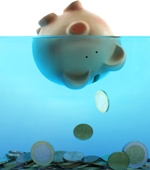 Not sure where your home's water meter is located or wondering how to read it? H2ouse provides a step-by-step guide for finding your meter and reading water usage.
Here's a quick and easy test to check if there's a hidden leak in your home. When you have a couple of hours that you are not expecting to run the dishwasher, wash the dog, or water the lawn, go read your water meter. Then wait two hours and read the meter again, being sure that no water has been used in the meantime.
You probably have a leak if the before and after water meter readings are different. It's that simple. Leak detection devices are available at most hardware stores, or you can contact your utility provider to learn about resources offered in your area.
Don't have a leak in your house, but want to find ways to reduce water consumption? Take this interactive home tour for tips on saving water and reducing your utility bill. The room-by-room tour offers suggestions for lowering the amount of water used in both your home and yard. The Florida Department of Environmental Protection also offers more tips on conserving water indoors and out.